FAIReconomics Newsletter Week 05/21
Federal government fails with EU Nitrate Directive: In an analysis, the German Association of Energy and Water Industries (BDEW) has found in the submitted drafts of the federal states for the implementation of the EU Nitrate Directive that the states do not fulfil the goals of the EU Nitrate Directive. The criticism goes even further: "The federal states want to reduce the existing protected areas even further, thus enabling even more extensive fertilisation of agricultural land than before. This is a step backwards in water protection," says Martin Weyand, Managing Director Water/Wastewater at BDEW. The background problem is the basic water quality of rivers and streams in Germany, many of which do not meet EU regulations, only eight percent are in good condition.  Nitrate from fertilisers as well as various pollutants from old mining sites or from the deepening of rivers are increasingly polluting. . euwid-wasser.de , dw.com
Bundestag deals with advisory council: The Petitions Committee of the Bundestag has dealt with the idea of a Climate Citizens' Council. The online petition was signed by 70,000 people within a month and is considered one of the most successful online petitions ever.  According to the content of the petition, 150 citizens are to be selected by lottery. The council, which is mixed according to age, gender and origin, is to receive expert information and discuss the issue on six weekends within six months. At the end, it will submit recommendations for action to the Bundestag.. energiezukunft.eu,  taz.de
38 percent was the share of renewable energies in Europe last year, exceeding energy production from coal, nuclear power and mineral oil.  This means that in 2020, the share of electricity generated from renewable sources was higher than from fossil fuels.. faz.net
Virtual climate summit in The Hague: The aid pledges at the virtual climate summit in the Dutch capital on adapting to global warming were a failure, at least as far as pledges of money for development aid are concerned. In the Paris Agreement, there is $100 billion a year that developed countries have pledged for the poorest countries on earth. But even in 2018, like OECD countries, the hurdle was broken, with only 79 billion coming together. The summit was organised by the Global Commission on Adaptation, founded by former UN Secretary-General Ban Ki-moon.  spiegel.de,  klimareporter.de
Peoples' Climate Vote – a majority wants changes to protect the climate: The results of the Peoples' Climate Vote, the world's largest survey of public attitudes to climate change, were published last week. The poll, which covers 50 countries with more than half of the world's population, includes more than half a million people under the age of 18 – an important voter group on climate change who normally cannot yet vote in regular elections. fair-economics.de
US – Stop oil and gas drilling on federal lands: Immediately after taking office, US President Joe Biden has ordered a halt to new oil and gas drilling on federally owned land. In doing so, the US President also wants to have existing contracts reviewed. There is also a moratorium on the granting of new drilling rights. Environmentalists say the decree, which the President presented at the White House, does not go far enough. zeit.de
Too much single-use plastic in Europe: Even though climate and environmental awareness is rising in Europe, residents on the continent are using too much plastic. This alarmed the European Environment Agency (EEA), which pointed out in a new report that the pandemic was exacerbating this. Pictures of protective masks in waters and masses of disposable protective equipment have sensitised people, but too many plastics are still too often used as disposable products and thrown away. n-tv.de
BOOKTIP OF THE WEEK:

Rebellion oder Untergang
Ein Aufruf zur Rettung unserer Zivilisation
"No one but Noam Chomsky so passionately connects the two man-made threats to our existence
– catastrophic climate change and nuclear doomsday machines."
Daniel Ellsberg, whistleblower on the Pentagon Papers
More powerfully than ever before, Chomsky clarifies the existential threats posed by nuclear weapons and climate change. He places these threats in the context of unprecedented global corporate power, which has now taken the leading role in shaping our future. Noam Chomsky shows that global popular movements must mobilise to force governments to confront the unprecedented challenge to the survival of our civilisation. westendverlag.de
---
Homemade solar hydrogen: Becomes a home power source and competes with Tesla's Powerwall. heise.de
Charges against VW employee: Market manipulation in the CO2 affair.  wiwo.de
Power lines: Demand in Germany increased. spiegel.de
Sharks: Decimation of the species worldwide. sueddeutsche.de
Investing with responsibility: These five online tools bring sustainability into your portfolio. Many investors want to invest sustainably. Online tools help to make the right decision among the mass of "green" offers. handelsblatt.com
---
 The seventeeen goals Magazin features inspiring stories about how people move the world and shows how everyone can make a contribution to achieving the sustainability goals.
17 goals and many solutions – An overview of smart ways to achieve sustainable development. What can be done against child labour? How do cities move towards a sustainable future? How can companies integrate the Sustainable Development Goals? In line with the "good-news" approach of the 17 Goals magazine, the editorial team presents solutions and shows very concrete ways to change, but at the same time also presents the causes that make rethinking and re-acting necessary. 17goalsmagazin.de
---
MOBILITY:
Fast and energy-saving flight routes: Anyone who has flown across the Atlantic will have noticed that jet streams determine how fast an aircraft crosses the Atlantic. That this can benefit the climate has now been shown by a study that has determined that around 6.7 million kilograms of CO₂ could have been avoided on 35,000 flights between London and New York. spiegel.de
Tesla wants to build batteries in an environmentally friendly way: Tesla wants to build a battery factory in Grünheide. near Berlin. This is supposed to be particularly environmentally friendly. In the meantime, the EU Commission agrees and, according to the Federal Ministry of Economics, subsidies for the location are possible. The BMWi particularly emphasised Tesla's "development and realisation of advanced manufacturing and recycling methods for lithium-ion battery cells".  rbb24.de
Greens request doubling of funds for the expansion of cycle paths: The expansion of cycle paths, especially on federal roads, is not progressing.  Above all, the maintenance of the infrastructure is at the expense of new routes. Now the Greens are calling for a doubling of the budget. "More money alone will not solve the problems, however," says Stefan Gelbhaar, transport policy spokesman for the Green parliamentary group in the Bundestag. "To date, the planning and approval of a cycle path is just as complicated as the construction of a federal road." taz.de
Overarching strategy for rail transport is necessary: It is a truism that rail transport is essential for climate protection and a change in transport. However, the expansion of the rail network is progressing only slowly. An overarching strategy is needed that is geared to sustainability criteria. zeit.de
Purchase premiums for e-cars: The Federal Government provides information on the effects of the purchase premiums for battery electric vehicles, plug-in hybrids and fuel cell vehicles. In an answer (19/24111) to a question from the FDP parliamentary group (19/23596), it says that more than 110,000 e-cars and plug-in hybrids from German manufacturers have been subsidised since July 2016. About 93,000 cars from foreign manufacturers have been subsidised. Currently, about half of the registered e-cars and two-thirds of the registered plug-in hybrids come from German brands. In the case of imported vehicles, it is not possible to determine the place of production; in the case of German manufacturers, this is in Germany for about two thirds of the vehicles, otherwise mostly in other EU countries. It is not possible to draw conclusions about the added value generated in Germany by the environmental bonus. In its answer, however, the Federal Government refers to an interim report by the National Platform for the Future of Mobility. The report shows that about one third of the added value of electric cars is generated by the battery, but that European companies are heavily dependent on battery cell imports.
CO2 price for car drivers: An average car driver must expect additional costs of less than 60 euros (without VAT) this year as a result of the CO2 price. This is explained by the Federal Government in its answer (19/26035) to a small question (19/25551) of the FDP parliamentary group. It assumes an average petrol consumption of 7.8 litres per hundred kilometres and an average mileage of just under 12,000 kilometres per year. As the answer further shows, the CO2 price of 25 euros per tonne fixed for 2021 leads to a price surcharge of 7 cents per litre of petrol. In the following years, this will gradually increase to at least 15.5 cents in 2025.
Survey: People prefer own car in Corona crisis – E-cars boom. There is no virus in your own car – this hope makes the passenger car a crisis winner. Above all, sales of e-cars have increased significantly in 2020. heise.de
ZF on course for the future: The supplier ZF Friedrichshafen has discontinued development for conventional vehicles. CEO Wolf-Henning Scheider explains why the road to the mobility revolution is still rocky. faz.net
The Long Journey of Car Parts: Like textiles, car parts travel long distances halfway around the world before they are assembled. The energy balances are devastating. derstandard.at
How China wants to conquer the world market for electric mobility: In the hunt for the new Tesla, investors are pouring billions into companies from the People's Republic. In fact, they have caught up technologically. handelsblatt.com
Wingcopter closed deal: The company develops, builds and operates delivery drones. Three university dropouts want to prove that humanitarian and commercial interests can be combined. The company has now raised 18 million euros. businessinsider.com
LAST WEEK IN THE BUNDESTAG:
Promotion of hydrogen technology: Regulations are currently being drawn up so that hydrogen technologies can be further expanded. This includes transitional regulations for the expansion of H2 grid infrastructures, according to an answer by the federal government (19/24577) to a minor question by the FDP parliamentary group (19/24178). The expansion of hydrogen filling stations is also being promoted. Currently, 86 hydrogen filling stations are in operation along the connecting motorways and in urban centres, and 400 are planned by 2025. This already provides a good basis for the market ramp-up of hydrogen vehicles. In all programmes, only the production of "green", i.e. sustainable, hydrogen is to be promoted.
Agenda from biology to innovation: Since the "Agenda from biology to innovation" (BIO-IT) is currently still being developed, it is not possible to make a final statement on its content at this time. This is what the Federal Government writes in its answer (19/25945) to the small question of the FDP parliamentary group (19/25341) on BIO-IT and on the state of development in the convergence of IT and biology in Germany. Bioinformatics is an interdisciplinary and converging young technology. Market developments, the emergence of important players and the formation of sustainable value chains are only just beginning to emerge, independent of currently visible international beacons.
Stricter limits for power plants: The Committee on the Environment, Nature Conservation and Nuclear Safety has paved the way for stricter emission regulations for power plants and other large combustion plants. With the votes of the CDU/CSU and SPD parliamentary groups, it voted on Wednesday in favour of the slightly revised ordinance on the new version of the Ordinance on Large Combustion Plants, Gas Turbine Plants and Combustion Engine Plants and on the amendment of the Ordinance on the Incineration and Co-incineration of Waste (19/24906). The AfD and Bündnis 90/Die Grünen parliamentary groups rejected the ordinance, while the FDP and the Left parliamentary groups abstained.
When sea-going vessels are dismantled incorrectly: According to the federal government, the improper dismantling of seagoing vessels poses a hazard to the corresponding waters. Potential environmental hazards are primarily the entry of hazardous chemicals, other hazardous substances such as asbestos, TBT-containing outer skin paints (tributyltin hydride) or heavy metals, as well as pollution with oily mixtures, according to the government's answer (19/25825) to a minor question by the FDP parliamentary group (19/25495). "In the view of the Federal Government, the environmental hazard from improper dismantling of seagoing vessels in the water or in the intertidal zone can be significant." Possible hazards for workers during ship dismantling include occupational accidents, the risk of entering inadequately ventilated or non-gas-free spaces, and inadequate protection when handling hazardous substances, he said. In response to the question of what concrete measures the Federal Government has taken so far to support the implementation of the "Hong Kong Convention", the answer states that the Federal Government is contributing to its entry into force by acceding to the Hong Kong Convention in July 2019, which contains international regulations on the environmentally sound and safe dismantling of seagoing ships for shipping companies, construction yards, manufacturers, suppliers and shipbreaking yards. The German government wants to motivate other countries to join the convention as well.
Greens want fair heat: The parliamentary group Bündnis 90/Die Grünen wants to secure the restructuring of the heat supply in Germany with an "Action Plan for Fair Heat". In a motion (19/26182), the parliamentarians call for a bundle of measures ranging from energy efficiency and the expansion of renewable energies in buildings to climate protection in neighbourhoods. For example, it is about renovation targets and standards as well as subsidy requirements, obligations to install solar energy and neighbourhood solutions for heat supply. This will ensure a climate-neutral building stock by 2040, provide planning security for industry and the trades, and promote an ecological, social and thus fair heat transition, according to the justification.
Water directive should not be watered down: The Federal Government adheres to the objectives of the EU Water Framework Directive (WFD) and does not want to soften them. This is stated in the answer (19/26097) to a minor question (19/25751) of the Bündnis 90/Die Grünen parliamentary group. The WFD requires that water protection objectives be achieved in the EU Member States by the end of 2027. The achievement of the WFD's management objectives is primarily the responsibility of the Länder, the Federal Government emphasises. Accordingly, the management plans must be reported to the European Commission by 22 March 2022 at the latest. It is a challenge not only for Germany to achieve the management objectives in all water bodies by 2027, the Federal Government further explains.
TAKEN LITERALLY

"We have to think of structural change from its end. The goal is to maintain or expand prosperity and quality of life in the affected regions"

Thomas Schmidt (CDU), Minister for Structural Development, Rural Development and Construction in Saxony, said this was the only way people would stay there or even move there. That is why it is necessary to expand the infrastructure. However, the most important thing is to maintain well-paid jobs. There is often a false image of the coalfields as an economically weak region. The mining industry and power plants in the region actually generate above-average wages, he said, adding that the development of research facilities also offers an opportunity to create jobs. But we have to take into account which companies are already there and which topics are being dealt with there. If companies only go to a region because it offers the appropriate support, they will quickly leave again. In addition, it is important to be careful that the workforce is not taken away from local small and medium-sized enterprises when they relocate: Many smaller companies are afraid that people will run away from them. This should not be underestimated. Schmidt assumes that even after the power plants are shut down, many jobs will remain for their dismantling and the recultivation of the opencast mines. rtl.de
AFRICA
German Africa policy between Corona and election campaign: Germany's net direct investment in sub-Saharan Africa from January to September 2020 was €698 million – around €171 million lower than in the same period in 2019. But there are more problems – as two key advocates for Africa leave the stage. But it is unclear what will happen to Africa policy and programmes in the long term. In September, there are federal elections. Chancellor Angela Merkel and Development Minister Gerd Müller, the most prominent architects of the new Africa policy, have announced their departure. dw.com
Kenya: "They think they are protecting lives in Africa, but the opposite is true". Under US President Trump, abortion counselling services in Africa have been stripped of aid money. Joe Biden now wants to overturn this decree. What does that mean for women in Kenya? spiegel.de
Africa's fight against Corona: How the success story turned into a moral tragedy. For a long time, African countries successfully defended themselves against the Corona pandemic. But now many more people are dying. One reason: there is a lack of vaccine because rich countries are hoarding it.  nzz.ch
Last-minute deportations to Africa – Trump's last victims: On its last day in office, the Trump administration sent out deportation planes, mainly to Africa – even though, or precisely because, it was clear that Joe Biden wanted to end this practice. Here, those affected report on their inhumane situation. spiegel.de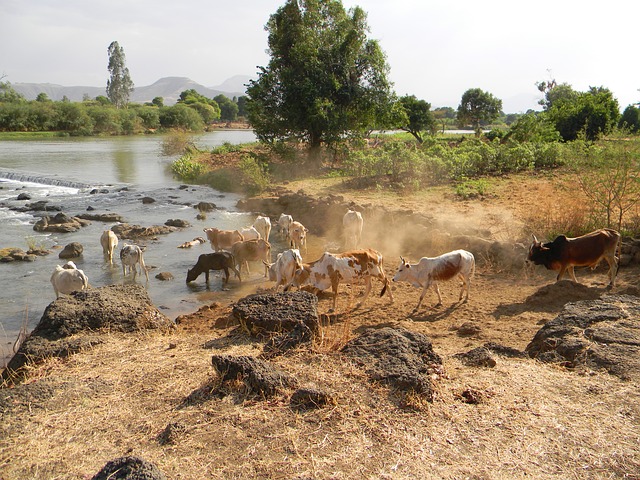 Milk farming in Africa for 6,000 years: A new study highlights Africa's role in the history of dairy farming and shows that milk was already being consumed on the continent 6,000 years ago. mpg.de
Egypt: The revolution has not failed. Ten years ago, Egyptians overthrew Hosni Mubarak. It did not bring them more freedom, yet they gained something. zeit.de
Debt relief: Aid agencies press for debt relief in Corona pandemic welt-sichten.org
Land conflicts in Nigeria: Agreement on land conflicts between herders and farmers. welt-sichten.org
MORE KNOWLEDGE:
Peru as a laboratory for biodiversity: If you want to know something about biodiversity and its future, you can study it well in Peru. Climate change and rising temperatures are driving birds up the mountains in the tropics. Competition between species for the cooler places can already be observed. Not all species can prevail and move out to the mountain tops, where it ends. Already the first species are disappearing. klimareporter.de
The future of ski tourism: In winter there is less and less snow, especially at low altitudes. The ski tourism industry tries to compensate for fluctuations and changes with technical snow. Georg Kaser is an internationally renowned glacier and climate researcher and also knows the realities of ski tourism – and he says: "If I want to achieve these climate and environmental goals in the next five to 20 years with social justice, I wonder how ski tourism is supposed to be achieved in this high-energy way." standard.at
Designing from disposable masks: the corona pandemic has inspired 23-year-old South Korean student Haneul Kim from Kaywon Art University. The design student created his own furniture collection out of disposable masks: He created stackable, colourful stools out of discarded disposable masks. He should not have any supply worries. It is estimated that around 130 billion masks end up in the rubbish every month.  jetzt.de
Sharks: Decimation of the species worldwide.. sueddeutsche.de
Blackrock: Putting more pressure on climate protection. spiegel.de 
Nature Conservation: Dozens of governments want to put 30 percent of the planet under protection. An environmental researcher doubts that this measure could avert species extinction. tagesspiegel.de
Local temperature development: How the weather has developed on our doorstep.. zeit.de
LAST WORDS:
Clubhouse hype: Android users to be able to use a near future. Cloubhouse, the palaver app is literally on everyone's lips, even a prime minister has burnt his own there and had to apologise to Mutti. But what about data protection there, for example with the phone book uploaded to the Clubhouse servers? Are there recordings of the conversations, what has to be approved, more about the app and the rules and data protection knows. heise.de
All images, unless otherwise stated: pixabay.com
You are receiving this newsletter because you are interested in environmental and sustainable issues.