Report of the Intergovernmental Panel on Climate Change (IPCC) is presented today: The representatives of the Intergovernmental Panel on Climate Change (IPCC) are appearing before the world public at a critical time. Forest fires in many places on earth, floods, the melting of the poles and the Greenland ice sheet. On Monday, they will present the first part of their new, now sixth report, in which the international ­research community has compiled the current state of knowledge on climate change. The last report was published in 2013. The paper will be the basis for future climate policy for many governments­. And it will meet with a more sensitised public in many countries than the previous report from 2013. Dominating trends the rising number of heat waves, which will increase in frequency more than any other weather extreme. pnp.de , dlf.de , solarify.eu , ipcc.ch
Greens call for climate protection ministry: As part of the presentation of their 100-day immediate action programme, the Greens presented their idea for a climate protection ministry. The new ministry is to ensure that no legislative project runs counter to the goal of limiting global warming to 1.5 degrees. For this purpose, it will have a veto right. Criticism came from the CDU and SPD: "Climate protection is the chancellor's job. All cabinet members must participate in this, and a future federal government does not need a veto, but a turbo," said CDU Chancellor candidate Armin Laschet. Climate protection is "a cross-sectional task and not a veto job of a green minister". SPD top candidate Olaf Scholz expressed a similar view. "Climate protection is being driven forward in the Chancellor's Office," tweeted Scholz "That's why I will make it a top priority as a central mission for the future."  tagesschau.de, zeit.de,
---
By 86 million people since the turn of the millennium,

who live in coastal and riverine areas threatened by flooding and inundation. That is ten times more people than previously assumed. The trend is unbroken. faz.net
---
Before the election – Climate check of the associations: Environmental associations have presented a "climate election check" that compares the climate positions of the parties for the Bundestag election.  The election check works similarly to the Wahl-O-Mat. 28 climate policy questions are listed there. The election programmes of the CDU, SPD, Greens, Left Party and FDP were evaluated by the Climate Alliance Germany, German Zero and the Nature and Biodiversity Conservation Union (NABU). klimawahlcheck.org , tagesspiegel.de
CDU – Raise CO2 price: Federal Research Minister Anja Karliczek has spoken out in favour of raising the price of CO2 certificates if measures to achieve climate targets are not sufficient. "With the CO2 price, we have created an effective instrument with which we can adjust at any time. If necessary, we have to tighten the price further, while cushioning the social impact." n-tv.de
Forest fires around the world: It is not only the Mediterranean that is burning, forest fires are also raging in the USA, Canada and Russia. The authorities in Russia reported the day before yesterday that more than 250 fires were raging, covering a total area of more than three million hectares. sueddeutsche.de
No savings from CO2 price on petrol and diesel: The German government expects only minimal CO₂ savings from higher fuel prices. Actually, the additional climate levy on petrol and diesel was supposed to help reduce CO₂ emissions from the transport sector. Now the government admits: The climate effects of the higher price are minimal. This year, the Ministry of Transport expects greenhouse gas savings of less than one percent. rnd.de
BOOK TIP OF THE WEEK:

Die Natur auf der Flucht
WHY OUR FOREST IS SLIPPING AWAY AND THE BROWN BEAR MEETS THE POLAR BEAR – HOW CLIMATE CHANGE IS DRIVING PLANTS AND ANIMALS BEFORE IT.
Something is happening in the world of animals and plants that has received far too little attention so far. Where they can, animals and plants alike are moving towards the poles to escape the rising temperatures and drought in their traditional habitat. Tropical areas are losing their inhabitants, beavers are settling in Alaska, huge schools of fish are disappearing and reappearing off foreign coasts. Sea dwellers advance an average of 72 kilometres per decade, land dwellers 17 kilometres. Benjamin von Brackel gives an exciting and vivid account of a phenomenon that shows us both the impressive adaptability of nature and the dramatic effects of climate change – not least on humans, who are not immune to the migration of species. penguinrandomhouse.com
---
Water: More polluting from the bottle than from the tap. deutschlandfunk.de
Deutsche Bahn: This year, according to its own estimates, it will have to spend 40 to 50 million euros on CO2 pricing. stern.de
Karlisczek: Brings ban on domestic German flights into play. t-online.de
Thawing permafrost: In Russia, researchers have measured an increased concentration of the greenhouse gas methane. spiegel.de
East Germany: No more climate muffle. dlf.de
The seventeeen goals magazine tells inspiring stories about how people move the world and shows how everyone can make a contribution to achieving the Sustainable Development Goals.
MOBILITY:
CO2 compensation: Hardly any air passengers want to pay extra for their CO2 emissions. welt.de
Separation of network? An alliance of associations calls for a second railway reform and the separation of network and operations. uploads.gdl.de (documents), faz.net
Urban mobility: Internet-based mobility will relieve inner cities. auto-medienportal.net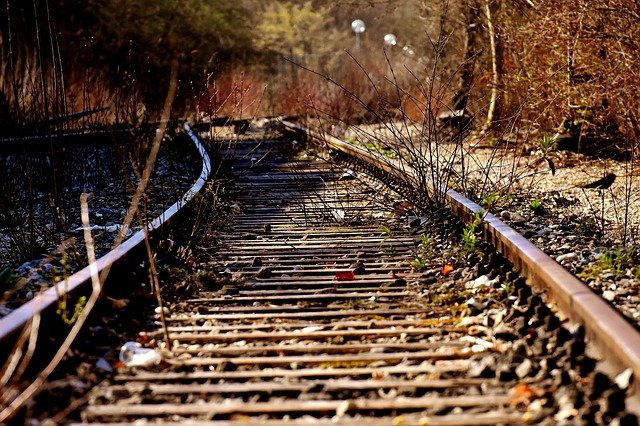 Railways want to reactivate routes: Against the background of the corporate strategy Strong Rail, Deutsche Bahn AG (DB AG) is currently not initiating any train path exemption procedures. This was announced by the Federal Government in its answer (19/31799) to a minor question by the Bündnis 90/Die Grünen parliamentary group (19/31287). The DB AG will reactivate 20 lines with a length of 245 kilometres for railway operations, it says. The lines are a first part of previously closed routes on which passenger or freight traffic is to take place again in the future. In recent months, a team of experts from DB AG has identified a portfolio of routes throughout Germany with a length of around 1,300 kilometres and traffic potential.
Motorway expansion at risk? Parts of the planned route of the A 49 motorway in Hesse run through areas which, according to a hazard map of the Hessian State Office for Nature Conservation, are at high risk of heavy rainfall events. The recent flood disasters in North Rhine-Westphalia and Rhineland-Palatinate, with rainfall of up to 150 litres per square metre, have caused massive destruction and revived the discussion on infrastructure adapted to extreme weather, the environmental group Parents for Future points out, and therefore calls for an immediate halt to construction of the planned extension of the A49 between Neuental and Gemünden. taz.de
HYDROGEN:
Germany is predestined for hydrogen: the EU Commission recently presented the EU legislative package "Fit for 55". The catalogue of measures for climate protection comprises over 3,000 pages. Hydrogen (H2) is mentioned more than a thousand times on these. This underlines the fact that H2 is no longer a niche product. One of the most suitable countries for the use of hydrogen for the energy transition is Germany. However, challenges of a legal nature still need to be addressed. energate-messenger.de
Hyundai: Joins German hydrogen filling station network. The South Korean carmaker becomes a member of the H2 Mobility alliance, which is setting up a network of hydrogen filling stations. welt.de
BMW: Speculation about hydrogen. bimmertoday.de
Hydrogen Hype – Impact on the Oil Giants: In the course of growing environmental awareness, a real hype has arisen around the alternative "fuel" hydrogen. The gas industry, which is struggling to survive, is focusing primarily on "blue hydrogen" produced with gas. finanzen.ch
Baltic Sea: Hydrogen hub founded. zfk.de
Question on hydrogen drives: The FDP parliamentary group addresses the possibilities of alternative hydrogen drives in a small question (19/31768). The Federal Government is asked, among other things, what opportunities it sees for hydrogen engines with regard to the respective needs of the different modes of transport. The Liberals also want to know whether the government has studies on the holistic environmental balance of alternative hydrogen engines.
LAST WEEK IN THE BUNDESTAG
Taking stock of the policy for rural areas: The creation of equal living conditions on the basis of the work of the Commission "Equal Living Conditions" is a central and interdepartmental task of the current decade. In particular, Germany's structurally weak and rural areas should offer better prospects for people to stay and move to, according to a federal government answer (19/31758) to a minor question (19/30696) by the Bündnis 90/Die Grünen parliamentary group on the balance sheet of rural policy in the 19th parliamentary term. A central role would be played by the instruments of regular funding such as the two joint tasks, urban development funding as well as the funding instruments for infrastructures, innovations and services of general interest, which were bundled in an all-German funding system. The answer also provides numerous statistics, graphics and information on the living situation, health, mobility and economy in rural areas.
Report on sustainability assessment between conventional and organic farming: On average, yields in organic farming are 20 percent lower than in conventional farming. On the other hand, organic farming scores significantly better in terms of ecological indicators such as soil fertility, protection of biodiversity and water bodies from nitrogen inputs. This is the conclusion of the report "Sustainability Assessment of Agricultural Systems – Challenges and Perspectives" (19/31714), presented by the Office of Technology Assessment at the German Bundestag (TAB). On behalf of the Committee for Education, Research and Technology Assessment, it examined the status and perspectives of the sustainability assessment of agricultural systems.
Forest Report presented: The consequences of climate change have left clear traces in Germany's forests in recent years. The severe storms in 2017 and 2018, the extreme drought and heat waves in 2018 to 2020, and the mass proliferation of bark beetles have led to massive forest damage, according to a briefing by the Federal Government (19/31700) on the Forest Report 2021. According to the report, almost all main tree species show so-called loss of vitality and symptoms of damage. Especially spruces on sites with poor water supply are dying over large areas. Based on a country survey as of 31 December 2020, a total damaged forest area of 277,000 hectares is to be assumed, which must be reforested. Due to the damage, some of which is considerable, the forest stands and thus important forest functions, such as the preservation of water and soil protection, but also the climate protection effect and the carbon sink function, are considerably impaired in some regions, the report continues. On 57 pages, the report provides an overview of the situation of the forest in Germany, addresses the forest damage from 2017 to 2021, lists the national forest policy measures taken and also presents Germany's international and European forest policy.
Government does not want to grant tax exemption to donated coffee: The federal government does not believe that coffee donated to charitable organisations, for example because it has reached its best-before date, should be exempt from coffee tax. In its answer (19/31728), the government contradicts a proposal of the FDP parliamentary group contained in a small question (19/31452). Among other things, the government points out that coffee is not a foodstuff, but a luxury food.
LITERALLY
"I am also very concerned about heat waves in general, because they also affect people. One must not forget: Forest fires and heat have nothing to do with each other. It can also be very hot and the air dry and then nothing happens. It's just the drought that exists there, that it hasn't rained properly for many weeks and that a small spark is therefore already enough to cause a forest fire, that is of course a cause for concern, especially the drought.
Claudia Kleinert, weather presenter, said that entrenched weather patterns would be cemented. That means that the same thing always happens. That's what we have in the Mediterranean at the moment with the high-pressure bridge. It stretches from the western Mediterranean to Russia, via Greece, Turkey, then up the Black Sea to Russia. A high-pressure area that also prevents us from having stable summer weather for a longer period of time – while here it is stable and unstable. This means that it is also cemented in place. And we can definitely expect to experience this much more frequently in the coming years, because it is also a consequence of climate change – entrenched weather patterns. deutschlandfunk.de
I would like to see these disasters lead to a rethink among travellers – but also to a pause in the industry. Do I really have to build a hotel with 350 beds in the immediate vicinity of the Berchtesgaden National Park, a retreat for nature? Is that the right signal to send? I would like us to learn appropriate lessons from the Corona pandemic. Simply going back to 2019 should not exist in my eyes.
Marcus Pillmayer, Professor of Tourism at the University of Applied Sciences in Munich, he is not too fond of always wanting to regulate (holidays) only by price. Leisure time, holidays and recreation are universal goods that should be available to everyone. But it is quite significant that we still do not have a paraffin tax, that CO2 compensation is still not obligatory. And the fuss about banning short-haul flights is also incomprehensible. It was only a question of making them unattractive by creating alternative offers. If, for example, we got to the point where the train was faster, more relaxed, cheaper and more reliable, we would no longer have this kind of debate about flights. augsburger-allgemeine.de
AFRICA
Corona in Africa: Never as deadly as now. It is the deadliest phase of the pandemic on the African continent and at the same time only 1.9 percent of people have been vaccinated so far. More vaccines are finally supposed to arrive by the end of 2021, but that will not be enough. spiegel.de
UNESCO World Heritage: Africa hardly takes place. Barely nine percent of UNESCO World Heritage sites are located in Africa. Experts say that the allocation is too Eurocentric. In Africa, however, there is also a lack of structures and political will to preserve cultural and natural heritage. dw.com
Development projects in Africa: What would work better than always giving money to the wrong people. Billions of euros flow to Africa, often bypassing those affected. The chairwoman of a philanthropy network now wants to strengthen local projects – and hopes for money from rich Africans. spiegel.de
Ethiopia: Government sends soldiers to Tigray instead of food. Aid organisations speak of an acute famine in the Ethiopian province. Addis Ababa, however, continues to arm for war. derstandart.at
Eswatini: The people against Africa's last absolute monarch: Things are boiling in the small state of Eswatini. A crisis is simmering in the landlocked South African state of Eswatini. For weeks, pro-democracy demonstrators have been resisting the profligate king. nzz.ch
Democratic Republic of Congo: In Congo, the churches are arguing about an urgent reform of the body. This is already jeopardising the next elections – although they are not due until 2023. taz.de
Zambia: Election campaign with the gun. In Zambia, President Edgar Lungu is mobilising the armed forces. He wants to curb the increasing violence before the upcoming elections. taz.de
South Africa: Ex-President Jacob Zuma transferred from detention cell to hospital. His imprisonment had triggered protests in South Africa. After a routine check-up in prison, ex-president Zuma is now being treated in a clinic. Meanwhile, his successor Ramaphosa has reorganised the cabinet. spiegel.de
Rhino poaching: Poachers are striking again: According to the South African Department of Environmental Affairs, 249 rhinos were illegally killed between January and the end of June. That was 83 more than in the same period last year. dw.com
MORE KNOWLEDGE
Net zero: The term climate neutrality is a double-edged sword. For example, companies that do not make any great effort to curb their CO2 emissions also call themselves climate neutral. Instead, they pay others to avoid emissions that they themselves could only reduce at a much higher price. nzz.ch
Gulf Stream: Ocean currents like the Gulf Stream are important components of the global climate. If, for example, the current in the Atlantic collapses in the course of the climate crisis, this would have devastating consequences. A study shows that this current could approach a critical threshold. pik-potsdam.de
Energy retrofitting: In industrialised countries like the Netherlands, a large part of greenhouse gas emissions is due to energy losses in residential buildings. Energy retrofitting the houses in the previous way to reduce carbon dioxide emissions is often costly and time-consuming. In order to produce less greenhouse gases for electricity and heating, the Netherlands has designed a special house renovation. A new façade is put over old buildings. spektrum.de
Patient Forest urgently needs help: Our forests are suffering from climate change. fair-economics.de
Work: Modern work is above all intellectual work. This work can no longer be squeezed into a measurable time corset. wiwo.de
USA – State of Louisiana: The state is sinking into the water. Human egg production is one reason. faz.net
Fashion: 31 current sustainable initiatives of the fashion industry. fashionunited.de
THE LAST:
Photo: Kenroy Ambris/Commonwealth Secretariat by (CC BY-NC 2.0) on flickr.com[/caption]
Ruthless Queen: Environmental protection and nature conservation is something the English Queen seems to champion, but only when it doesn't involve the 95-year-old monarch's private purse. One example is the new climate protection law of the Scottish regional government, which promotes the construction of heat pipelines so that the often poorly insulated houses in the chilly north can be heated in a more environmentally friendly way. However, for this purpose, the interests of landowners have to take a back seat; if necessary, the government can even expropriate their land. All landowners are affected, except for one: Elizabeth II. Only when it comes to the Royal Latifundia, the monarch suddenly resists and refers to an ancient privilege. tagesspiegel.de
All images, unless otherwise stated: pixabay.com
You are receiving this newsletter because you are interested in environmental and sustainable issues.